Payments are due in full upon completion of service. For your convenience, we gladly accept cash, personal checks and credit card payments.
If the customer is not present during service or if no one is home upon our arrival, we will contact you before cleaning begins to receive authorization and collect payment (credit card over the phone is permitted). If you are unavailable, we will have to reschedule your appointment.
A $35 fee is assessed on all returned payments (checks/credit cards). All fees are due promptly and must be paid via credit card. ​
Returned Payments: There is a $35 Fee for payments (checks/credit card) returned in addition to the unpaid balance. The unpaid balance must be paid immediately upon notification.
Since cleaning is a very personalized and subjective service, we cannot offer refunds to customers. However, we want you to be 100% satisfied with our services! We offer a 30-Day Warranty period on all our services, if a task was not completed to you satisfaction during our initial visit simply contact the office and we will return to your home and re-clean the area which you were dissatisfied at no additional cost to you. Please see details under Warranty Period.
Oops! Steam Cleaning wants you to be completely satisfied every time. If you are not satisfied, Oops! Steam Cleaning will come back to your home and re-clean said areas/items at no additional charge.
However, warranty period is for 30 days exactly from your original service date. Your re-cleaning must be scheduled within the 30 days from your original service date. The complaint must be made by phone and must be received within 30 days of the original service date.
We train our staff to take extra care with your belongings, however regrettably and although not common from time to time something may be broken or damaged. If there is an item that is believed to be damaged by one of our cleaning professionals, it must be reported to the company within 24 hours from the completion of the service in efforts to properly investigate the issue. If we damage anything during the service being provided, we will notify the customer immediately. In event an item is damaged or broken, we reserve the option to repair or replace the item. We cannot take responsibility for items that were broken because they were not properly attached or secured (for example, a hanging picture that was improperly attached to the wall or an item that is propped against a surface).
Waste (i.e. Urine, vomit, feces, blood) can be an issue of not only the carpet but padding and sub-flooring as well. Cleaning the carpets' surface may not remove all odors. Oops! Steam Cleaning is not responsible for cosmetic or structural damages that might result from waste treatment or removal. We do not guarantee complete odor or stain removal.
There are several contributing factors that affect dry time: level of humidity, air movement and thickness of carpet, waste treatment. We do not guarantee the amount of time for drying time. Drying times can exceed 24 hours especially in cases where waste treatment was done.
Dark Lines at the Baseboard:
Filtration stains are dark lines around the parameter of your carpet at the baseboard. These are caused by air filtering into the walls at the baseboard typically from gas heat, candles and gas appliances. These stains consist of fine particles that embed themselves into the carpet fiber. Attempting to remove filtration stains results in an insignificant change; therefore, we do not offer filtration stain removal.
Please have small furniture and personal items such as magazines, clothing, kid's toys, shoes, etc., off the floor unless you do not want the carpet cleaned beneath such items. Also secure any pets, our van-mounted units can get annoy your pets. 
Please be advised that we provide arrival windows. Your Cleaning Technician(s) will arrive anytime within your scheduled arrival window. You are expected to be present or have made arrangements for us to gain access to your home within your scheduled arrival window. Failure to do so may result in having to cancel or reschedule your visit.
Thank you for choosing Oops! Steam Cleaning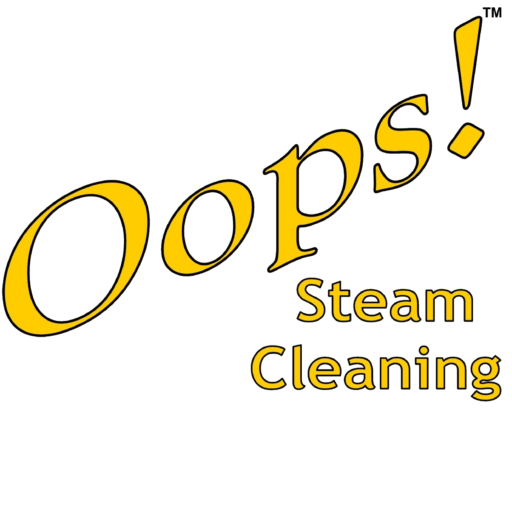 Carpet Cleaning & Floor Restoration in Houston and the Surrounding Areas
Monday
Tuesday
Wednesday
Thursday
Friday
Saturday
Sunday
8:00 AM – 5:00 PM
8:00 AM – 5:00 PM
8:00 AM – 5:00 PM
8:00 AM – 5:00 PM
8:00 AM – 5:00 PM
8:00 AM – 5:00 PM
Closed